Time Lord Name Generator
Every now and then I run across something on the internet that is truly awesome, or at least amuses the heck out of me. My most recent finding was the
Time Lord Name Generator
which as you can imagine I very excited to see what my Time Lord name would be.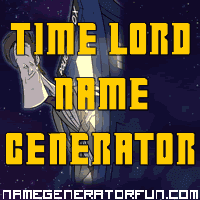 Your original Gallifreyan name is Vangothdanboradruchardath, or Vangoth for short. Back on Gallifrey, you led a dull and uninteresting life, working as a Weapons Keeper for the Chancellery Guard – but now, you travel Time and Space in search of adventure!
Your Type 101 TARDIS is currently stuck in disguise as a monster truck called 'The Destroyer', and your latest travelling companion is a Sontaran Lieutenant, who is attempting to learn more about the difficult art of Not Killing People.
Get your own time lord name from the time lord name generator!
I am very excited that my TARDIS is a monster truck, I think it's fitting. What did you think of the test? Are you a Doctor Who fan? Have you secretly dreamed of being a Time Lord?